Today Jason & I decided to give Anderson his first real bath- he's been getting sponge baths for a while now but today was the real deal. I was totally expecting him to
HATE
it as he usually isn't happy being naked or changed and the sponge baths have never been fun for him. Luckily, I think we must have gotten the bath water temperature correct because he was pretty content! He did cry in the beginning, but I kept pouring warm water over him and so he was happy. (Maybe happy isn't the right word, but he wasn't pissed off!)
Who knew it would take
THIS
much stuff in order to bathe a 2 week old! The towel, wash cloth, diapers, wipes, fresh clothes, soap, lotion, etc.. I was getting it all together thinking "How often can I actually do this??" It was funny.
On another note, I finally worked out today! I did the elliptical for 20 (LONG) minutes and did some squats, lunges, push ups and sit ups. It was really hard work, but I feel really good having done it. I felt like I had more energy after I did it- a great feeling!
Taking it easy the rest of the day- Jason's allergies are bothering him and we could all use a rest. Anderson slept well again last night- up every 3 hours or so.
Here are some bath pics:
Just before the fun begins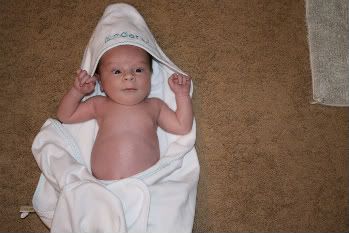 Not quite sure about this...
All done!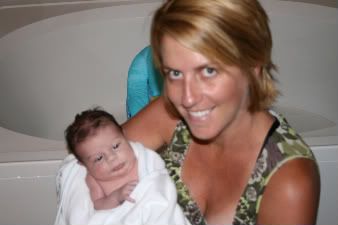 Clean boy
Hanging out; feeling clean